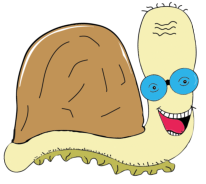 The Launch Pod.
The launch Pod is where you
(my History Hounds) and I
can set off on a Historical
adventure.
Fun Pods.
I love to get all your jokes and
yes even snails like to laugh.
I also have a great gallery for
all those cool pictures you
draw.
Teachers Pod.
Teachers zone is full of extra
history resources and links to
some great pages, that may
just help you with your history
planning.
D.I.Y Pods.
I can not record all the history
myself, so I need your help.
Find out how you can make
your own History Pod and
send it in to share.
Welcome to History Pods
Hi I am 'Pod' and this is my on-line shell. I am a time traveling history snail and along with my
friends, we have been tasked with recording history but I can not do it alone, I need your help!
Will you take on the job as a 'History Hound' and help me use imagination and sound, to record
our past? You will, great! Let's go.........
What to do next
Get exploring and have a look round my Shell. Drop into the Fun Pods and share your jokes and
pictures.
Remember I need your help, I am looking for schools, groups and 'History Hounds' to record their
own History Pods. I have over 200,000 years to record and I can't do it by myself, so pop in to
D I Y Pods to find out how you can help!
Well I need to go and get ready for our next adventure, I'll see you on the launch Pod.....
Some of my 'History Clan'...



Pod recommends his
website for 8+
All adventures come in full
recordings or in two parts!